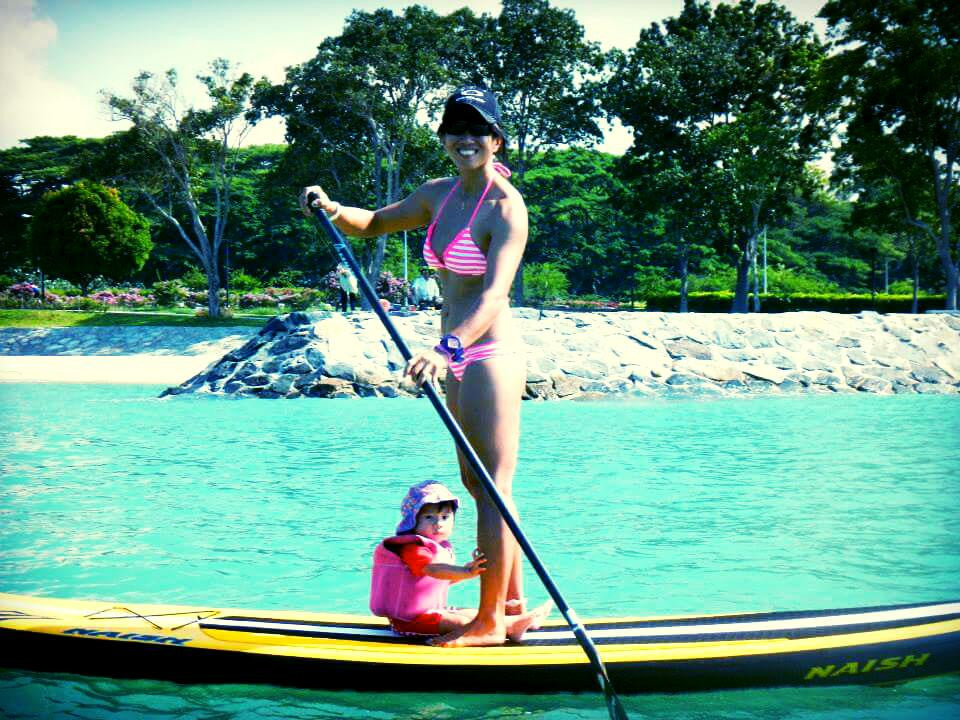 Windsurfing, Kitesurfing and Stand Up Paddle Singapore
Stand Up Paddling (SUP) Lessons
If you need more information about product or delivery, feel free to contact us.
---
Updated: 7 Nov 2020
Story: We're the pioneer in introducing SUP to Singapore years ago back in 2009. I was introduced to SUP Surfing by a friend when I went to Bali for kitesurfing & surfing and first began to SUP Surf in July 2009 just after my son was born. At that time, nobody knew what was SUP in Singapore. I imported my first SUP board from Mistral, then Fanatic and Naish, Exocet, begging windsurfer friends to try it. It was slow, difficult and I met with much unbelief. Slowly but surely, the SUP boom occurred about 7 years ago and it's now the most popular & accessible sea-sport. We started teaching SUP lessons, held trainings (short and long distance 10km), races, events, SUP tours, demos, corporate/birthday events etc since 2009 before there was even Facebook and also began the first SUP Yoga session here on 17 Feb 2013. We wrote to ASI to start a course to certify SUP instructors 7 years ago and now there're regular courses certifying instructors annually. We've gone through so much to establish ourselves as the pioneer and most experienced SUP school and SUP equipment retailer. We're simply stoked to pass on our SUP Love, knowledge and passion. See my old photos of my 1st SUP in the first Gallery below!

Facts: Singapore is the Ultimate place to SUP what with Summer all year round, flat water and kilometres of water. Pro SUP'ers, recreation or playing around with your kids, SUP is the way to go in Singapore. imagine 10-20 kilometers of uninterrupted waters with restaurants, pubs, kelongs (fish farms), mangrove swamps, water sports centres, cycling stations etc along the way. SUP, stop, SUP or SUP all the way - whichever way you want it to be. We don't have waves in Singapore but we drive up to Malaysia for surf-fix or fly to Bali which is 1.5hrs away! Desaru's only 1 hour's drive away. What other way to bring your toddlers (in life-jackets of course) out to sea than on SUP or simply, what sea-sports can your babies/kids do? Explore the ocean, teach them about environmental issues, check out other beaches and simply bonding together. No wind, no exercise? SUP 3, 4 or 5km or 10km or 20km and see if you don't come back in a sweat and aching muscles. SUP is one of the best Cross-training and fitness anaerobic sports today. Ex-Olympians and current Olympic athletes SUP for fitness/core muscle training, cardio workouts and train their sense of balance. Foundational SUP techniques can be learnt in 1.5 hours - I'll teach you the most effective and correct paddling techniques using your CORE muscles (abs, back, lats, glutes, lots of LEGS) and then you just rent & paddle for leisure! All classes/trainings come with video analysis, photos and special requests, complete with free future advice on techniques, paddle locations/travels etc. Just WhatsApp me to ask anything. Hard SUPs can be purchased from my online shop via orders and we recommend Starboard and Fanatic race/all-round/touring SUPs. We are the dealers/distributors for Naish, Fanatic, Starboard and Exocet SUPs in Singapore (as well as some Southeast Asia countries). WhatsApp 97733045 or Email for prices and check out my online store www.windkitesurfsup.com. 

Stand Up Paddling Lessons
(All SUP Lessons include SUP Board, SUP Paddle, SUP Leash & PFD/Life-Vest)
1. 1 Person SUP Coaching (1.5 hours)………S$150 (C3, East Coast Park)
2. 2 Persons SUP Coaching (1.5 hours)………S$100 each (C3, East Coast Park)
3. 3 Persons SUP Coaching (1.5 hours).........$90 each (C3, East Coast Park)
4. i) 4 persons SUP Coaching (1.5 hours)………S$90 each (Ola Beach Club, Siloso Beach, Sentosa)
ii) 6-10 persons SUP Coaching (1.5 to 2hrs).........S$75 each  (Ola Beach Club, Siloso Beach, Sentosa)
5. Children's SUP Lesson (1.5 hours) Private Class 1 Child S$150 or Private Class 2 Kids (or 1 Adult+1 Child 1.5hrs) $100 each 
4-6 years old kids will learn on Coach's board, 7yo onwards can have own board after assessed to be competent
For safety reasons, children's classes not more than 2 in a class (C3, East Coast Park)

First-timers or people who don't want to waste time going for so-called Intro/Tasters are advised to take an SUP Lesson and you will learn ALL the complete techniques. Watch the Video andhttps://youtu.be/CLHIJIkCgOw and if it speaks to you, hesitate no more. All classes are conducted at East Coast Park at Car Park C3, 1010, Marine Cove, East Coast Park (right in front of the gorgeous huge playground) for 1-3 persons class. Group classes of 4 and above are all held at Ola Beach Club, Siloso Beach, Sentosa. All SUP lessons are inclusive of all equipment (Board, paddle, leash and life-vest).
Steps: 1) WhatsApp Rachel 97733045 to arrange for date/time
2) Once we sort out date/time, I'll provide with photo details on meeting place, what to bring/wear. Keep your bags/car keys in my car. Avoid sunglasses/hats as you could likely fall into the sea unless those are things you're willing to donate to the sea.
3) I'll also WhatsApp you a Waiver form to be filled up and email to rachel@welovewindsurfing.com
4) Fees to PayNow to 97733045 upon confirmation as long as b4 class mainly to get all Admin settled offline so we can proceed straight to sea as well as to prevent no-shows or fickle-minded cancellations.

Bad Weather: Safety first so we won't proceed in inclement weather and don't worry about the $, we'll reschedule to a fine weather day with a prior weather forecast-check.
Addicted and want to buy a Race SUP or own your SUP board: email me or check out my online store www.windkitesurfsup.com. Watch our video to know what our students can do in their first hour of learning SUP www.youtube.com/watch?v=DQKKqPyGIJM&t=13s

Be Aware but Fret Not: SUP is not just picking up a paddle, standing upright and paddling with bended elbows. Yet, most lessons you take elsewhere teach you how to do that. You don't need to take a lesson to learn this. Learn the proper techniques of paddling with your major muscles & core, using hip hinge & balancing by surfing the waves, turning as well as ocean safety/awareness. SUP technique uses the major muscles in our core, back and legs. I will teach you very precise technique using muscular parts and body movements to explain, drawing references from other sports. In SUP, we really want to go for mileage *think distance* (and some surfing if there are waves) just like a good runner wouldn't call himself a runner if all he does is a 500m walking pace jog, similar to ányhow' paddling within a lagoon makes one a good SUPer. The boredom will ensure one stops SUPing in no time. SUP allows one to gain maximum physical & health benefits via right paddling techniques. Learn to engage your CORE muscles and you'll find yourself burning calories and looking toned in no time.  It takes an hour to know the basics of SUP, 2 hours to copy the movements but it takes a long time to master it, as with any sport! I will be with you during the full 1.5 hours for maximum learning and safety. Beginner to Intermediate Trainings are available to you. If you just want to play play, just rent and enjoy the sea with your friends. I'm refraining from sharing my trade secrets so just invest in your first class so that you're set on the right track henceforth. It's SO important! Check out our happy students and pics/vids of ongoing SUP classes on our Facebook page 
 
How to Book: Please WhatsApp me 97733045 to arrange for a class. WhatsApp is best because I'll need to send you the photos and videos anyway. Lessons are available on most mornings between Monday-Saturday or time slot as long I'm available (otherwise I'm usually mountain-biking or doing my own SUP Adventures). Yes, I'll definitely be taking photos/videos of your SUP session so smile lots! We highly recommend booking at least one week in advance for the Saturday slot and weekday mornings are more flexible. We're also available for off-site small group SUP lessons, Skills trainings or SUP tours at your private sea (Sentosa).
---
Share this Product
---
More from this collection