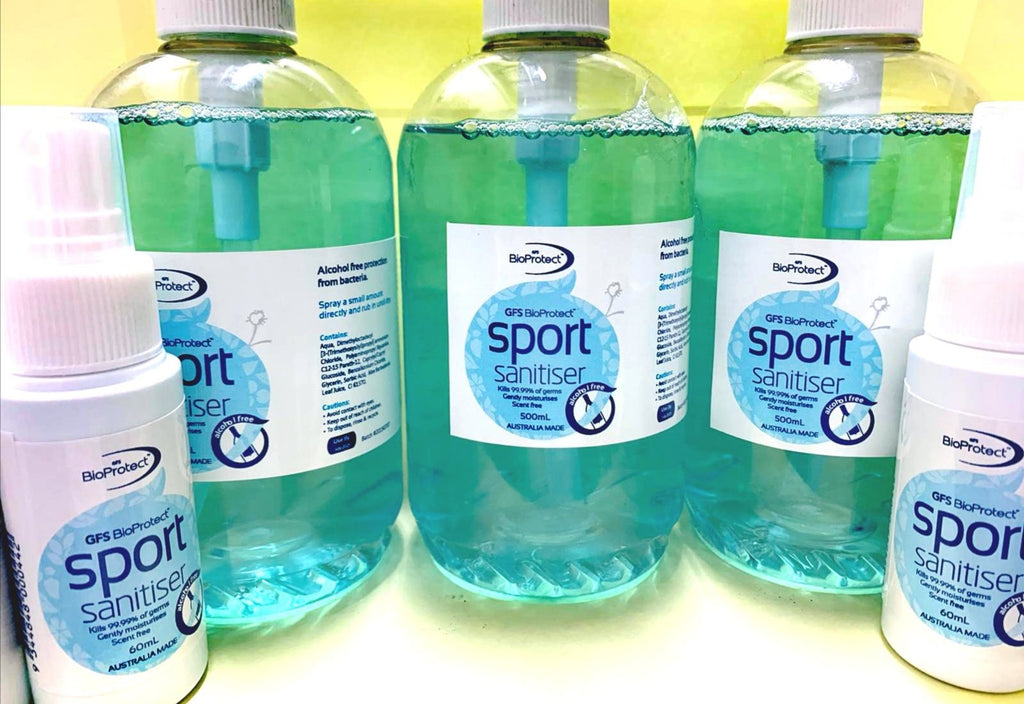 windkitesurfsup Singapore - Windsurfing, Kitesurfing, SUP SIngapore
Bio Protect Sport Hand & Feet Sanitiser (Up to 4 hrs barrier protection) 60ml & 500ml
If you need more information about product or delivery, feel free to contact us.
---
A single application of BioProtect™ Hand Sanitiser not only eliminates and inactivates bacteria, but also prevents reinfection by maintaining a long lasting protective barrier. Other hand sanitisers on the market today are primarily ethyl or isopropyl alcohol formulations, which are largely antibacterial in nature and only provide protection for a few minutes.
Protects for up to 4 hours
Moisturises with aloe vera
Up to 4 hours protection against germs
BioProtect™ Hand Sanitiser uses unique antibacterial technology that not only kills on contact, but also has persistent activity that helps prevent infections. The persistence of BioProtect™ Hand Sanitiser has been shown to remain effective for up to 4 hours.
Alcohol free formula
Most hand sanitisers contain high percentages of alcohol to poison germs, generally over 62%. This creates a highly flammable, poisonous mix that carries with it opportunity for being ingested, amongst other factors. Constant use of alcohol based hand sanitisers also has the effect of drying out your skin, leading to irritation and cracking. BioProtect™ Hand Sanitiser is water based and contains no alcohol. It's also non-flammable, and non-poisonous, making it safer for the whole family.
Kills 99.99% of germs
BioProtect™ Hand Sanitiser kills 99.99% of the germs it comes in contact with by disrupting the outer cell membranes resulting in a physical kill. This physical kill ensures microorganisms don't adapt or become resistant over time.
Moisturises your hands with aloe vera
BioProtect™ Hand Sanitiser is water-based with added aloe vera to leave your hands feeling fresh and soft. It's been designed to be non-irritating, leaving a fresh citronella fragrance once applied
Also Most Suitable for Athletes with sweaty/smelly feet, chaffing, long hours in the outdoors and army personnel. 
Benefits & Comparison
How does BioProtect™ Hand Sanitiser compare to competing products?
BioProtect™ Hand Sanitiser
Competing Products
Long lasting protection tested up to 4 hours

 

Alcohol based protection lasts just minutes
Alcohol free formula

 

Over 62% alcohol
Non-flammable and non-toxic

 

Highly flammable and/or toxic
Non-irritating

 

Can cause dryness and rashes
Moisturises your hands, helping prevent skin cracks

 

Dries out your skin, promoting cracks
Made in the Australia

 

Majority are made overseas
Leaves a fresh and clean citronella scent

 

Leaves a potent alcohol smell
---
Share this Product